In the 1830s, while Parisian decorators and porcelain makers were providing models that perpetuated the neo-classical vocabulary, Jacob Petit (1796-1868) challenged tradition with pieces of great variety in style and decoration. This astonishingly extravagant production, which appeared at a time when the art of porcelain was falling into the hands of industry, was a real success and revived the trade in ornamental porcelain.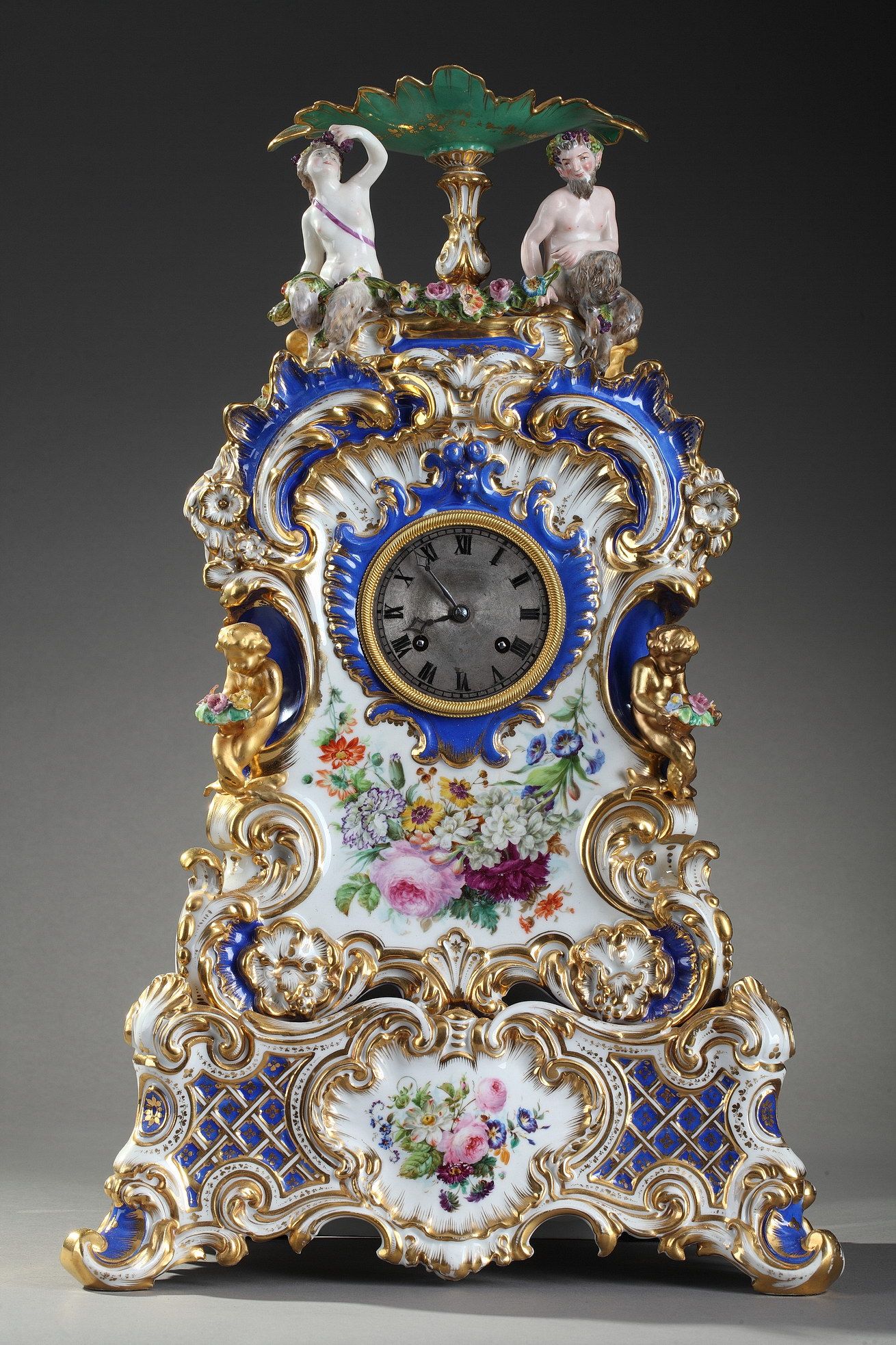 Porcelain clock in the style of Jacob Petit

Born in Paris in 1796, Jacob Mardouché, known as Petit after his wife's name, Anne Adelaïde Petit, began by studying painting in the studio of Antoine-Jean Gros. In 1820, he was qualified as a manufacturer of Porcelainand it was probably from this date that he made numerous trips to Italy, Switzerland and Germany, then settled for a few years in England where he studied various industries and painted theatre sets.
Back in France, around 1830-1831, Jacob Petit published a collection of interior decoration of one hundred plates with models of vases, furniture, pieces of goldsmith's and silversmith's work and carpentry where the previous styles are visited, with a preference for Antiquity and the Gothic style. After a short stay in Sèvres, he set up a small workshop in Belleville. His rise was rapid and spectacular and in 1833 he acquired the Porcelainfactory of Baruch Weil in Fontainebleau whose production was appreciated by Louis XVIII, Charles X and the Duchess of Berry. He also owned a decoration workshop in Paris at 26 rue de Bondy.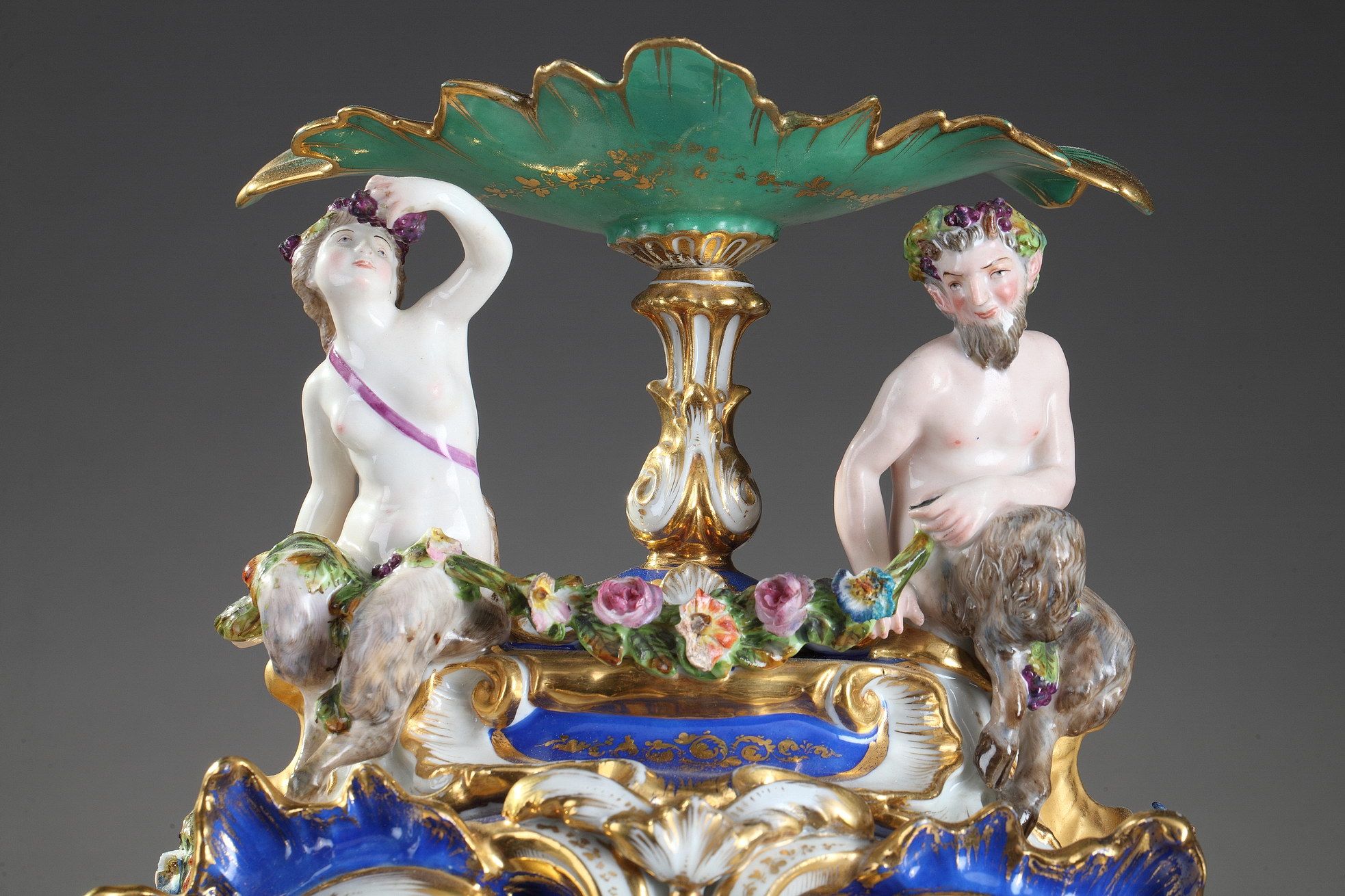 In 1846, he joined forces with Nicolas Moriot, a painter at the Royal Manufacture in Sèvres, and set up a small factory in the same town to produce Porcelain. Five years later, Jacob Petit moved his factory from Fontainebleau to Avon and sold it in 1862 to one of his colleagues, Etienne Jacquemin.
Jacob Petit's factory was one of the most famous of the years 1830-1860 and his production was abundant and varied. Although at the beginning Jacob Petit made crockery, from 1838 he devoted himself exclusively to ornamental pieces: flasks, clocks, incense burners, night lights, tea lights, paperweights, vases, torches and small statuettes.
From 1834 onwards, Jacob Petit presented remarkable pieces at the Industrial Product Exhibitions, and later at the Universal Exhibitions, whose technical innovations brought him numerous official awards. However, the accumulation of elements of earlier styles provoked the enthusiasm of lovers of refined objects. His work is highly eclectic, with elements of the Gothic "troubadour" style, the Renaissance, neoclassicism, the rocaille style, the Far East with the Chinese decoration, and the Near East with the Arab wars and odalisques.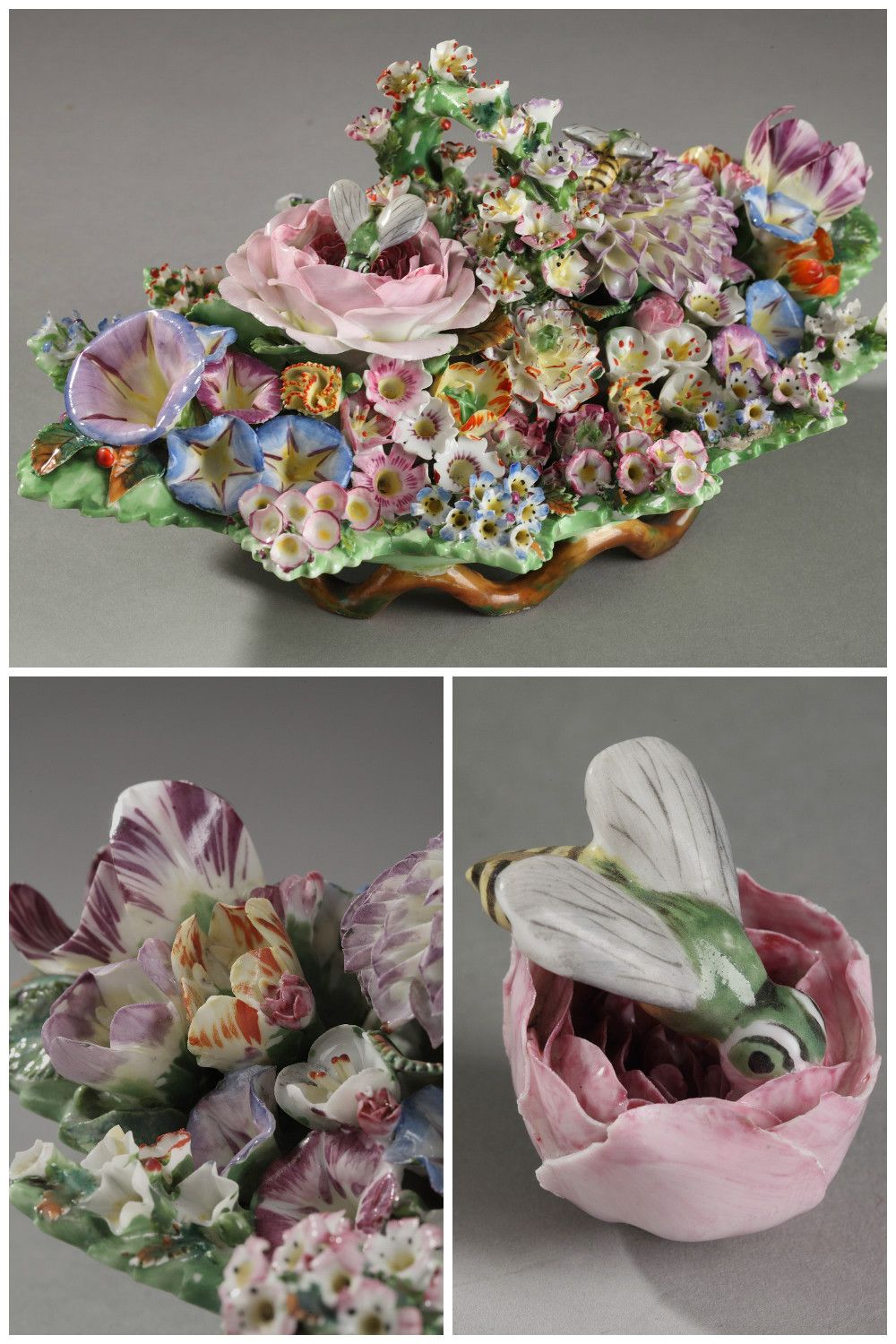 Porcelain inkwell by Jacob Petit

Moreover, foreign influences are also noticeable, following Jacob Petit's stays abroad, in Central Europe in particular, where he was able to study a rocaille style of unparalleled exuberance in France, which he subsequently imposed on his contemporaries. In fact, at the height of the Romantic period, this artist with an unbridled imagination brought to a climax his contoured, asymmetrical and "bizarre" forms, which easily set him apart from the other manufacturers of Porcelainin Paris. Rocailles abound in the decoration of corners, stops and even flat surfaces. Moving shapes, more or less apparent reliefs, sometimes even high reliefs, to which are added leafy branches, birds, flames, flowers and fruits form a luxuriant decoration which opposes the sobriety inspired by the antique. Coloured or gilded, all these forms give the pieces the appearance of wealth so appreciated at the time. The clocks are particularly representative of this taste, recalling the tormented rococo of the other side of the Rhine with their abundance of rocaille motifs and volutes.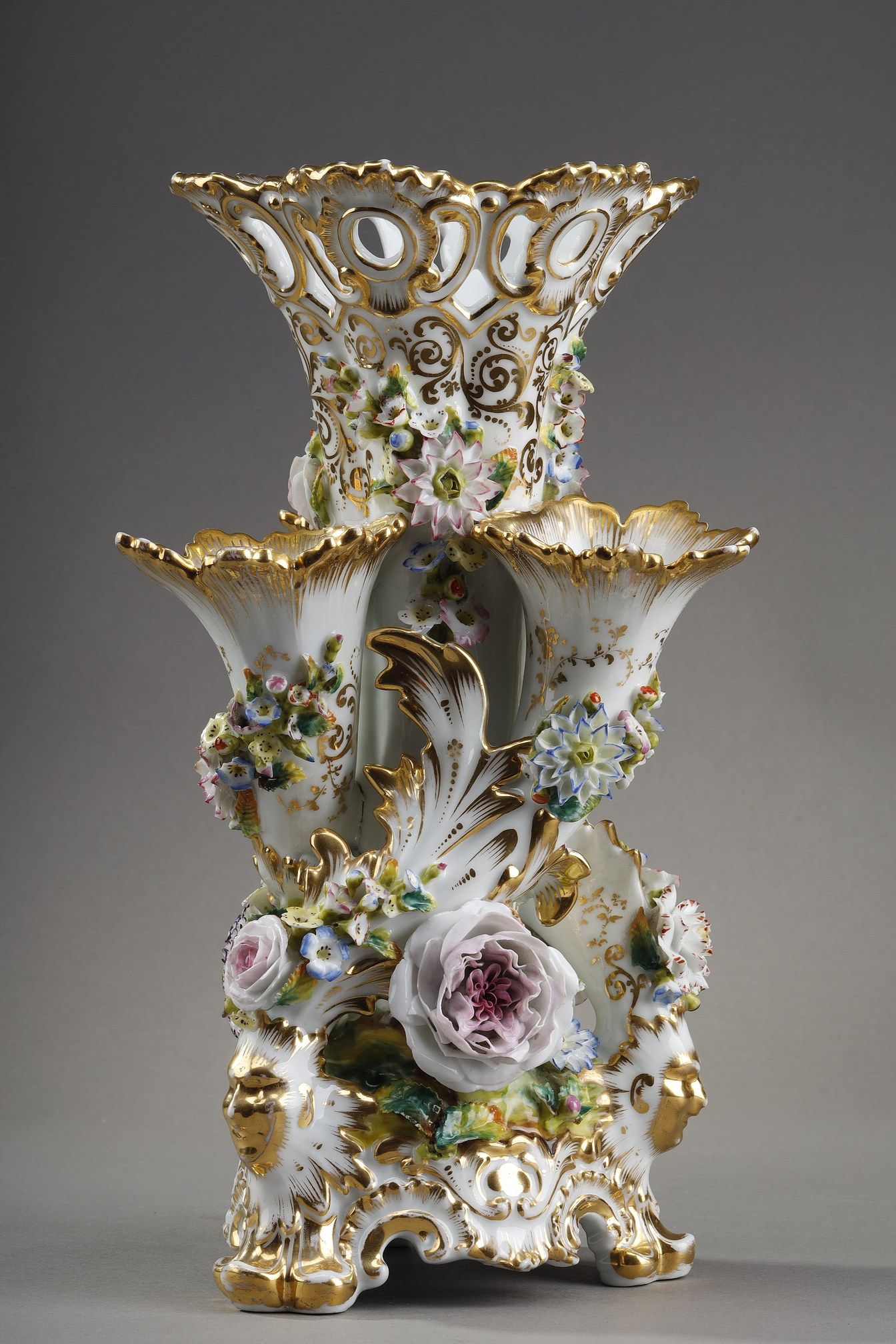 Polychrome porcelain vase by Jacob Petit

One of Jacob Petit's successes were the "snowball" vases, which were the glory of Meissen in the 1730s and 1750s. Entirely covered with tiny white flowers in relief, executed with meticulous care, this decoration became the object of real outpourings of fantasy at Jacob Petit.
Deeply influenced by the Saxon Porcelain, Jacob Petit also made numerous statuettes and trinkets in shimmering colours representing figures from the court of Louis XV or Saxony, musicians, shepherds, oriental figures and animals.
These small figurines have a decorative or utilitarian function, ingeniously concealing bottles, nightlights, inkwells, paperweights, bouquet holders or match holders.
For the painted decorations of his porcelains, Jacob Petit used bright and luminous colours, reminiscent of 18th century palettes. The pieces decorated in his workshops have a great freshness; the black, acid green, amaranth or turquoise backgrounds highlight the polychromy of the flowers in relief or the animated scenes with characters from various countries and periods. The exuberance of the golds is added to the vivacity of the colours.
Greyhound PorcelainJacob Petit The successful models invented by Jacob Petit were frequently imitated. Indeed, he sold many "whites" to decorators and merchants in France and abroad.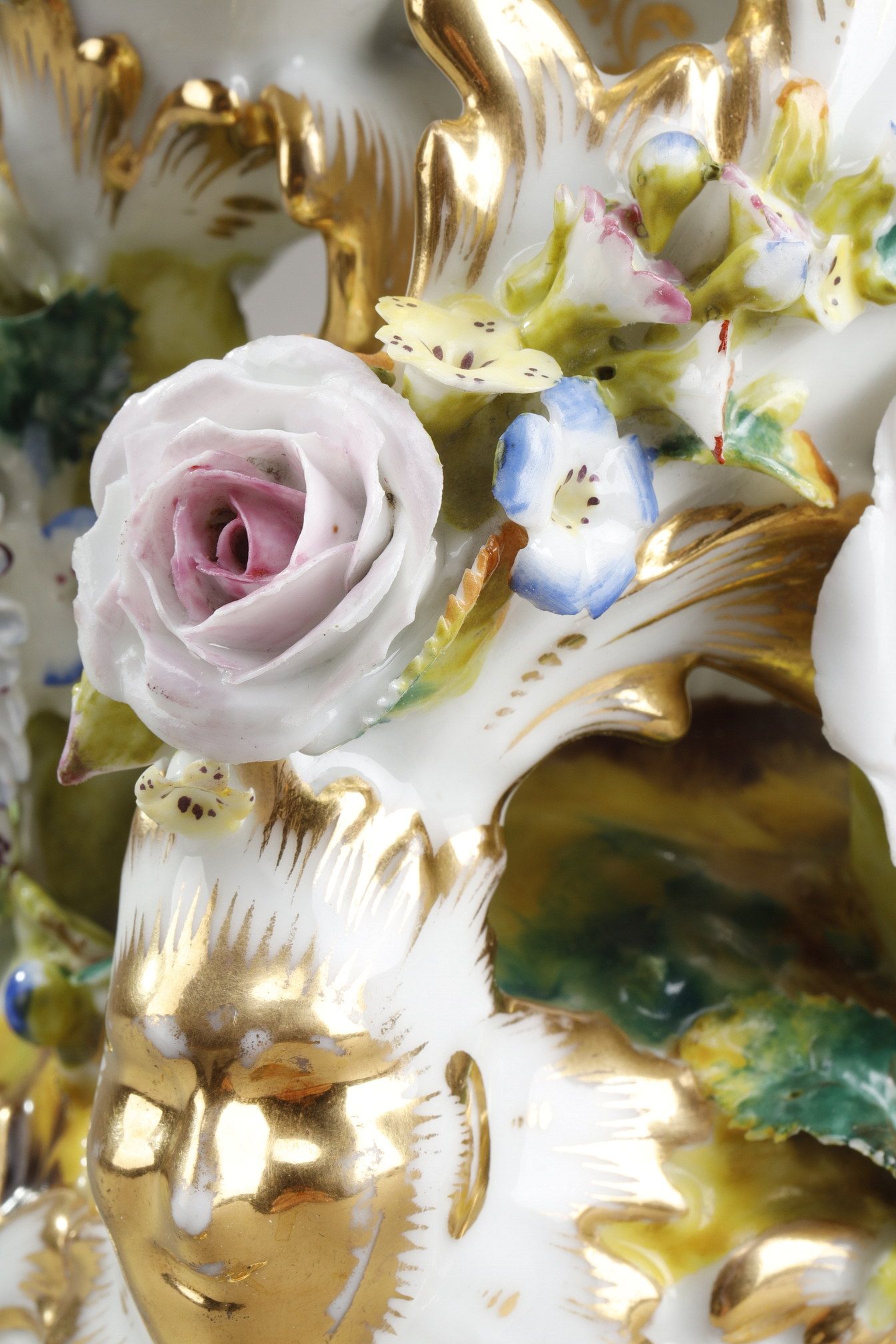 After two centuries, the work of this porcelain maker with a fertile personality appears as a production strongly impregnated by Romanticism with the triumph of imagination, sentiment, fantasy and "the exotic through time" according to the phrase of Théophile Gautier quoted in the Journal des Goncourt.
Drawing inspiration from all that he had admired on his travels and skilfully mixing previous styles, he nevertheless created a very personal, immediately identifiable work. In opposition to antique simplicity, Jacob Petit made his exuberance the image of a precious pomp, easily accessible, which met the taste of a new bourgeois clientele anxious to decorate their interiors with "effect" pieces.
Bibliography :
Plinval de Guillebon, Régine de, "Jacob Petit, le plus romantique des porcelainiers parisiens", L'Estampille/L'Objet d'art, no 311, March 1997, pp. 48-57.
Idem, "Les porcelaines de Jacob Petit", Plaisirs de France, no 365, March 1969, pp. 3-7.
Idem, Faiences et porcelaines de Paris, XVIIIe et XIXe siècles, Dijon, Editions Faton, 1995, pp. 286, 376.
Plinval-Salagues, Régine de, "L'exotisme de Jacob Petit", Art de France, no 3, 1963, pp. 195-200.
Boisgibault, Françoise, "Meissen et la petite statuaire française", L'Estampille/L'Objet d'art, no 369, May 2002, pp. 72-82.